Halloween Costume line by Abby's TuTu Factory a huge success!
Posted by Brittney Sweeney on Tuesday, September 22, 2009
Halloween 2009 was a huge success for Abby's TuTu Factory. It isnt even October yet and I am just about sold out of everything. I had no idea that this year would hit off like it did. This was my first true halloween tutu costume collection and once I got started it just took off from there and didnt stop. I started of with my watermelon tutu and wanted to create something super fluffy and different from all the other watermelon tutus I have been seeing around.
Next was the collection to shoot with Rockstarr and Co. Photography. For the photos I designed a lady bug tutu costume, apumpkin tutu costume, angel costume, and a funky super cute witch costume. The lady bug costume was a simple red tutu dress with matching lady bug wings. I made polka dots out of black damask fabric for a more elegant and sophiticated look. The pumpkin tutu dress was so flippin adorable and I loved the way it turned out with the vibrant orange tulle all gathered at the knees and several oversized silk leaves to add some pizazz at the top. The one thing I didnt get to do and wish I had had the time to make was a little pumpkin headpiece to match.




The witch costume I designed this year, I wanted it to be for that little fashionista girl. The one who is always super stylish no matter what she wears even if it is a witch costume. With the multi-colored super fluffy tutu and the cute little witches hat to match, this is a must have for all girls small or grown up. This witch costume was one of my top sellers and boy did I sell quite a few of them. This one is definatley coming back for next year.




The angel tutu costume was so simple yet elegant with the simple white tutu, feathered angel wings and a beautiful custom hair piece. Rockstarr and Co photography did a phenomenal job with the editing to create something truely artistic. I would have never have thought to do something like what she did with the angel photos.
Then came the Bewitching Costume which is a long black tutu dress with Abby's TuTu Factory signature criss cross weave overlay*. This witch tutu costume was another one of my top sellers and my absolute favorite costume I have made so far. I love the colors of the weave that coordinate with the colors of the belt around the dress. The witch's hat was a fun creative piece to make and I added the criss cross effect to the hat for a more dramatic and coordinating appeal.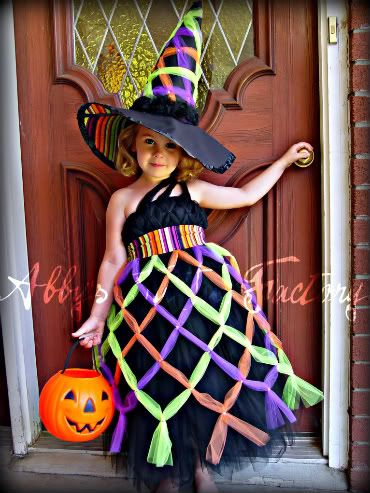 Next was a costume inspired by Abby's favorite singer, Hannah Montana. Abby looked absolutely adorable in her hannah costume I almost didnt want to sell it. The sequin top was made from an old tank top that I never wore and just turned it into this cute costume. The rocker tutu colors and cute little hair accessory made this costume pop right out of the picture. I wish I would have bought more sequin tank tops back in the day if I would have know they would have made such a cute little costume for girls. I was only able to make this one outfit so someone out there definately has a true ATF original. You better hold on to it when I become famous that outfit will be worth a fortune.LOL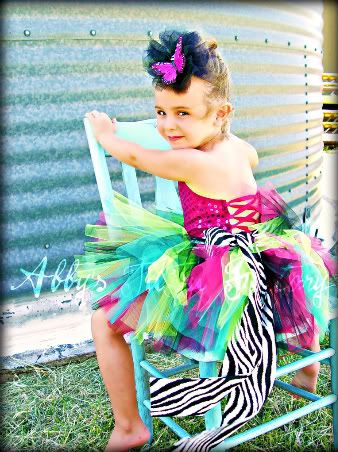 My next two costumes were definatley the crowds favorite. I wouldnt have guessed that the pirate costume and the red riding hood costume would be the biggest top sellers of all of my costumes. The pirate costume has been talked about and passed around in blogs all over the internet. With and idea I thouht was so simple and ordinary turned into something that got me really noticed by ppl. The compliments after compliments on this costume was so wonderful I couldnt beiliev they were actually talking about me.
Finally there is the Puppet costume and the black cat costume. The Puppet costume was one of my most interesting pieces and it just came out of left field. First I found the amazing material and knew right away I wanted to do something with it. I had no idea what I was going to do and just started cutting and sewing. Once the outfit was put together I knew I wanted the top hat to top it off and complete the outfit. Once I tried the costume onto Abby I just knew where I need to go with this costume. I was inspired by a past episode of America's Next Top Model where one the models had to be a puppet dummy for her photoshoot. So I immediately grabbed some string, taped it to the ceiling and asked Abby to act like a doll. And she did a beautiful job at it too. I was so impressed by my daughter's ability that day, I couldnt believe it and it definately shows in the photos.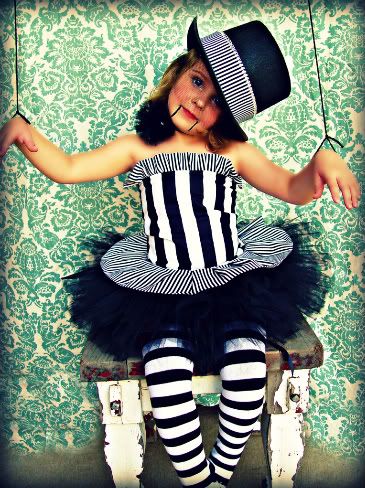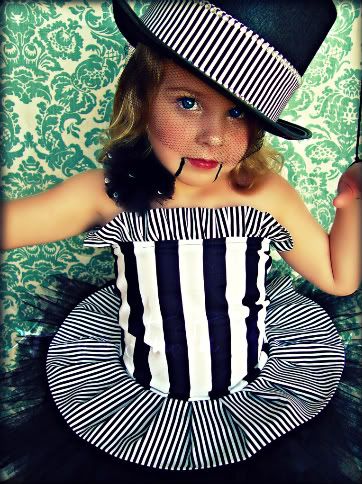 And many many more to see. I am not done yet and you will have to definatley tune in next year for my whole new collection plus this one to shop from..............